In response to COVID-19, Aetna is offering zero co-pay telemedicine visits (for any reason) to all members, from March 6, 2020 to June 6, 2020.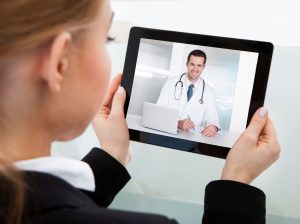 CVS Health has announced their support to Aetna members. Along with free telemedicine, members will also have access to:
Waived co-pays for all diagnostic testing related to COVID-19.
Waived cost-sharing and co-pays for inpatient hospital admissions related to COVID-19.
Aetna care management programs with instructions on the best ways members can protect themselves, information on the virus, and locations of where they can get tested for the virus.
A Special Enrollment Period opt-in for Aetna Commercial-insured and Small Group Aetna Funding Advantage customers.
CVS Health anxiety and stress programs including Crisis Response Lines, 24×7 access to the Aetna Nurse Medical Line, and Resource for Living toolkit materials specifically for members experiencing anxiety related to COVID-19.
CVS Care Packages containing over-the-counter medicine to help relieve virus symptoms (Aetna's Healing Better Program).
Aetna members should use telemedicine to limit their potential exposure to the Corona Virus in physician offices. Co-pays will be waived for all video visits through the CVS MinuteClinic app, Aetna-covered Teladoc offerings, or in-network providers delivering synchronous virtual care.
To view the full article from CVS Health, please click the link below:
CVS Health Announces COVID-19 Resources for Aetna Members
UPDATED: CVS Health Announces Cost-Sharing and Co-Pay Waivers for COVID-19-Related Treatment for Aetna Members
To see Frequently Asked Questions about Teladoc and COVID-19, please view the following document: Teladoc FAQ Talk to a Doctor for Free
For a printable flyer to share with your employees about Teladoc and COVID-19, you can view the following PDF: $0 Cost Share for Teladoc
More information and guidance on COVID-19 is also available at Aetna's COVID-19 Resource Center, which includes many frequently-updated resources, such as What You Need to Know About the Coronavirus (COVID-19)