What You Need to Know About the Vaccine Mandate:
On September 9th, President Biden announced a six point multi-pronged Executive Order to increase the number of Americans who are vaccinated for COVID-19:
All employers with 100+ employees and are bound by OSHA rules and regulations are required to mandate that employees get fully vaccinated or submit to weekly COVID-19 testing for negative results.
These employers must also provide paid time off for employees to get vaccinated or recover from vaccination (as directed by OSHA).
Federal agencies and government contractors are required to be vaccinated (in compliance with Safer Federal Workforce Task Force guidance).
Healthcare workers in facilities that accept Medicare or Medicaid are required to be vaccinated (action taken by the Centers for Medicare & Medicaid Services). 
States are encouraged to adopt vaccination requirements for all school employees as part of the effort to "keep schools safely open".
Increase the amount and availability of COVID-19 rapid in-home tests and to expand free testing at retail pharmacy sites.
To address the specifics of this Executive Order, explain how it impacts employers, and provide guidance on how to craft a policy for employee compliance, Parrott has created a compliance webinar for employers. Watch the webinar at https://vimeo.com/617220560 or download our Employer Vaccine Mandate PDF.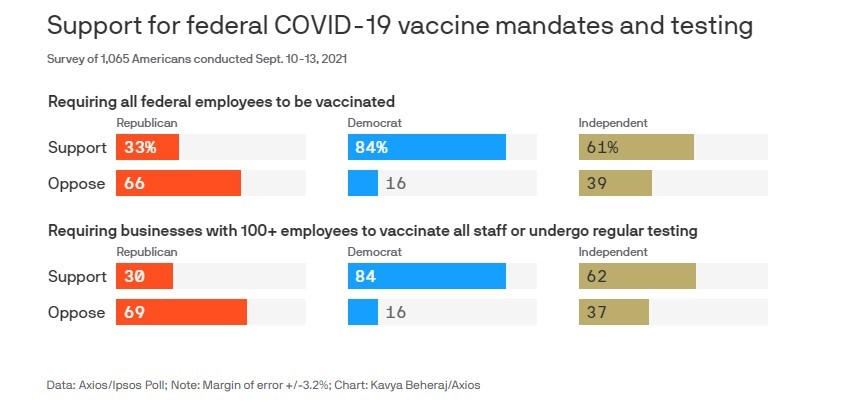 How to Respond to Vaccine Objections:
With the Delta variant on the rise, mandatory vaccination requirements are becoming more prevalent in the workplace. Unless prohibited by law or a collective bargaining agreement, employers are free to determine the terms and conditions of work, including that COVID-19 vaccination is an essential safety rule and qualification for employment. 
Those who object to getting the vaccine are increasingly seeking exemptions from mandatory vaccination based on their religious beliefs. Employers have three possible responses to a religious objection: approval, rejection on the grounds that the employee's religious belief is not credible, or rejection because honoring the request would cause the business undue hardship.
The general recommendation on how to navigate the choice around Biden's vaccine mandate is to clearly explain to your employees that while the company is legally bound to follow federal guidelines, they still have a choice. Make sure that your employees' individual right to choose between vaccination and weekly testing will be respected. This way, you are considering the health and safety of all your workers, continuing your business, and keeping a satisfactory level of productivity in the event of an outbreak.
Preparing for Vaccine Mandate Compliance:
To prepare for federal reporting requirements, it is recommended that employers should immediately begin to:
Have the ability to use technology to track immunizations and plan for testing, while considering how immunization and testing records will be thoroughly documented.
Determine payment options and allocations for COVID-19 testing.
Fines of up to $14,000 per non-compliance violations are possible.